羅漢果 Luohanguo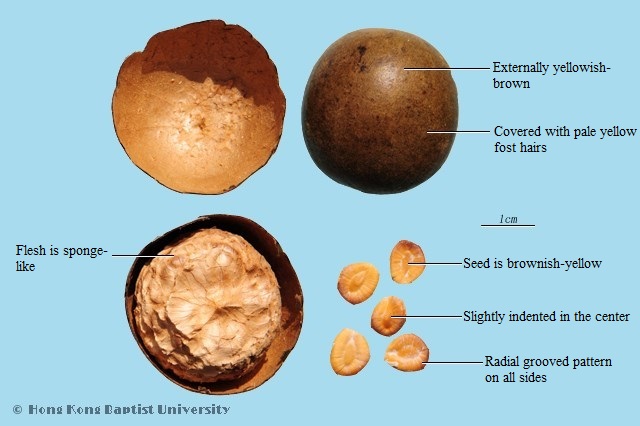 Chinese Name
羅漢果
Chinese Pinyin
Luohanguo
English Name
Lohanguo Siraitia Fruit
Latin Pharmaceutical Name
Siraitiae Fructus
Category
Fruits and seeds
Origin
The dried mature fruit of Siraitia grosvenorii (Swingle) C. Jeffrey ex Lu et Z. Y. Zhang.(Cucurbitaceae)
Production Regions
Primarily produced in Yongfu county near Guilin in China's Guangxi province.
Macroscopic Features
Oval, elliptical or spherical shape. Externally brown, yellowish-brown or greenish brown, with dark color spots and yellow soft hairs, some have 6~11 longitudinal lines. Apex has remnants of style. Base has scars of fruit stem. Light, brittle texture, easily broken. Flesh (mesocarp) is sponge-like, pale brown. Seed is flat spherical, numerous, pale red to brownish-red, center of both sides is slightly indented. All sides have a radial grooved pattern, edge has grooves. faint odor, sweet taste.
Quality Requirements
Superior medicinal material is classified by widest perimeter, extra-large fruit (perimeter more than 18cm), large fruit (17.4~18cm), medium fruit (16.5~17.4cm), small fruit (14.1~15.5cm), the higher the class the better the quality.
Properties
Sweet, cool
Functions
Clears heat, moistens the lung, promotes throat, opens voice, moistens intestines, frees stools. Apply to cough due to lung heat, throat pain and aphonia, constipation due to intestine dryness.


Permanent URL:https://sys01.lib.hkbu.edu.hk/cmed/mmid/detail.php?pid=B00231
---